Hoping that perhaps some of those who have been around longer than I might have some info on some early equipment.
First is I'm trying to find some info on an older rigid pump can from the 1940s, that is not in the style of the Indian Can. I have looked and when you google backpack pump, Indian cans and copies if indian cans are all that come up.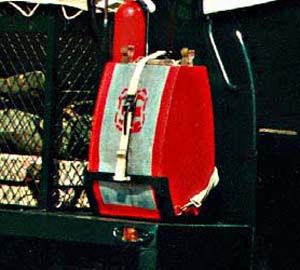 The second is a Panama belt driven pump. These were small (perhaps 10 gpm) pumps that ran off of a fan belt with a simple clutch assembly to engage / disengage the drive. The Panama company is still around being a major supplier of drip torches, but they don't have any information on these pumps. All I've found is a low quality patent drawing.
The pumps seem to have been used in the 1930s and then faded away. Google searches provide images of Panama hats, Panama Pumps (shoes), belts etc but not what I'm looking for.
Anyway I was hoping that perhaps somebody might recall seeing either of these in the backroom of a fire station collecting dust, on an antique fire apparatus or in a museum.