Someone has asked about hose loads and in the past several questions have been asked of me regarding the hose loads I put in my apparatus models. So here is a short tutorial on what I have done.
There are two types of loads that I use.
1. Accordian load and
2. The flat load.
The accordian load is where the hose sections are vertical and next to one another.
The flat load is where each section lays flat and succeeding levels lay flat on top of them. Here are examples of each.
The first one is the flat load and is most often used for large diameter hose loads since it would come off the truck easier than other kinds. I used 3M yellow tape for the LDH on this model. It is 3/4" wide. I cut off a piece and laid it flat so that I could fold it in thirds. The hand lines on each side are made from 1/8" wide sewing elastic that you can find in any store such as Jo-Ann Fabrics, Wally World or Target.
The second is an accordian lay and is a bit neater than the flat lay.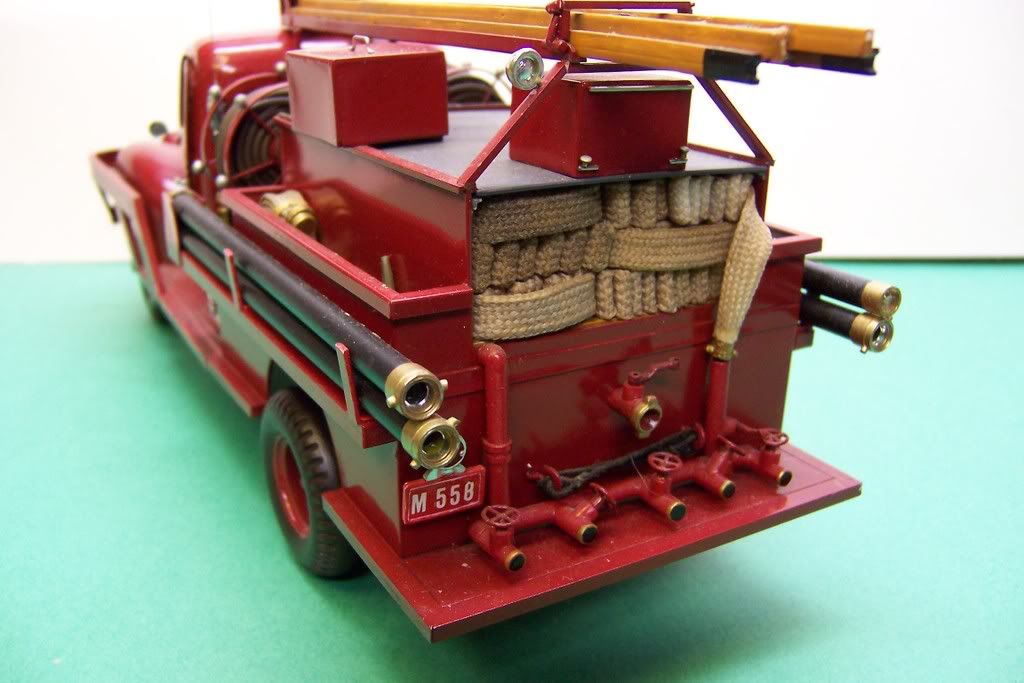 The hose on this model is a section of shoelace and is way out of scale and it is not exactly an accordian lay; in fact would be called a horseshoe lay. It starts on one side, goes down that side of the body, across the back of the hose bed and around to the other side. Eventually each side fills in and meets in the middle. The last section out is wrapped around one side and is tucked in. It continues around the outside again but this time on top of the first layer. But you can see that with the accordian or horseshoe lays, the hose folds are vertical instead of horizontal. This model was one of my first attempts at serious scratch building and was done over 20 years ago. Today I would use sewing elastic for the hose and would stain it with thinned Floquil "earth" or "dust" paint to give it an older cotton jacket hose look.
I'll be taking some photos shortly and show how the loads are done and some shortcuts to help save on the amount of sewing elastic that is used. I'll also show you how you can add hose couplings to make the hose loads come alive.