I know that a few us want to make truck caps, so here's how I made one for a Dodge Dakota pickup.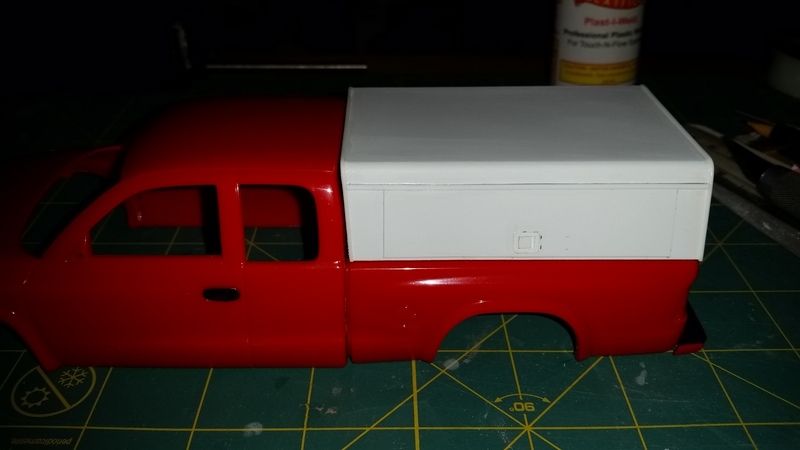 First, start by picking the style you want. I like A.R.E. and LEER commercial truck caps for my projects, but there are many smaller companies that make truck caps. Here are some websites that might help.
A.R.E.:
http://www.4are.com/
LEER:
http://www.leer.com/
Century:
http://www.centurycaps.com/
Supplies:
0.040 sheet styrene
0.020 sheet styrene
0.005 sheet styrene (or strip stock)
0.040 quarter round strip
0.030 by 0.040 rectangular strip styrene
Millimeter ruler
Metal Straight edge
square
New X-acto blade
Emory boards
Awe/file
Sand paper (course, medium, fine, 2000 grit)
Dichloromethane based solvent (I'm using Flex-I-File from Hobby Lobby).
& most importantly, Patience
Step 1, Design
Most commercial truck caps have the same shape. The forward and rear bulkheads are trapezode shaped, with rectangular or trapezium sides. Confused, don't be.
The bulkheads looks like this:
and the sides like either or these:

or
These are very easy shapes to cut out, if you know your measurements. To get the measurements, measure your vehicle's bed.
I'm using the Lindberg Dodge Dakota, which has an 8 ft bed, so you will have to adjust your measurements for your vehicles' dimensions
The Dakota's truck bed is 80 mm long and 63 mm wide. The width of the cab roof is 51 mm.
Next, pick the truck cap height. I'm going with 22 mm, you can choose anything from 21, 23, 26, 29, 36, or whatever floats your boat.
Alright, the design is almost done, but you still need to decide on side and rear doors. I'm going with 66 mm side doors, because I want to mount strobes on either side of the doors. You can pick a full length door, a 40 mm door, two 40 mm doors, etc. The rear door is another option. Single or Double? I'm going with single. Side or top hinge? I'm going with top hinge, gives the officer a canopy during the rain events.
Okay, that's most of our design options. Now it is time to cut some plastic.