Hi Guys,
I thought that I had posted this earlier, but couldn't find it. So, here goes... As my fictional fire department has several support units and smaller scale apparatus on the roster or "on order, we need to start "purchasing" some larger apparatus. Currently being "built" is this American La France Eagle pumper. The graphics will be similar to this Ventura County Fire engine:
http://t2.gstatic.com/images?q=tbn:ANd9 ... uc-zkBXGJj
The project began with the Trumpeter kit. I wanted to make roll up doors instead of the standard swing out doors provided in the kit. Careful removal of the doors and replacement of the frame material was built up from Evergreen styrene strip. The recessed style roll up doors were created from Evergreen v-groove sheet.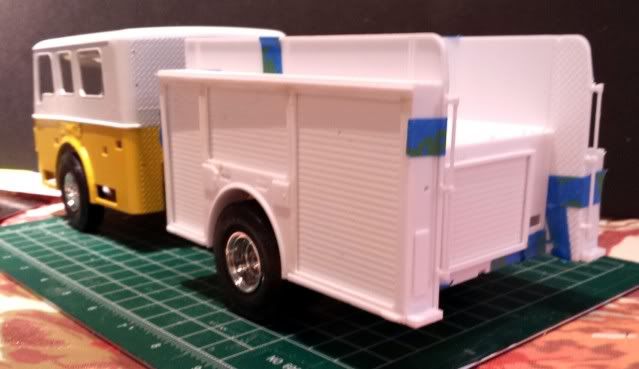 Note that in many of these photos, the body is just tacked together with masking tape for mock up.