I have been meaning to share this with you for a while! Our own humble master modeler Zoli has come out with a great line of detail items. They were originally designed for small scale police vehicles, but Zoli has masterfully sized them up for larger scales as well. The items are printed on photo quality paper. These include LED dash, deck, interior and exterior flashers, light bars and arrowsticks.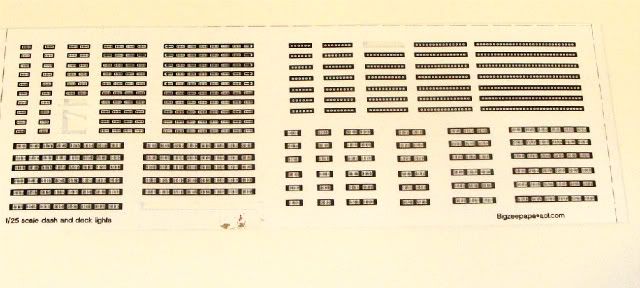 There are also radio faces, siren and lighting control modules and switches.
There are even templates for placing low jack antennae!
The details are meant to be applied to precut and painted strips of Evergreen styrene. The beauty is that they can be applied to various thicknesses depending on the desired use. This was my first attempt and I have to say that they are almost idiotproof. Once glued to the Evergreen strip, they are covered by a thin coating of clear epoxy. It really makes them come to life!
My samples still need a little touch-up along the edges prior to being glued to the model. Here is a link to Zoli's tutorial:
http://diecastpolicecar.poliskarr.org/i ... 384.0.html
Hope you will check these out. They are an easy and inexpensive way to add great details to your projects!
David